1. Birth of the Muses: - June 14 This card shows how our inspiration and creativity is manifesting.
Card: 10 wands
Interpretation
Through burdens.
I'm doing the midsummer group activity where we pull our own cards....but I've gotten a lot of odd cards. This one perplexes me the most.
My question is.....how is 10 of wands showing how my inspiration and creativity is manifesting?
I mean 10 of wands is usually tied to burdens....being overworked....schedule is full...adversity (possibly)....also wands is tied to ideas and inspiration...and 10 can indicate an abundance of something. So it is just telling me I have an abundance of ideas that are manifesting from my inspiration & creativity.
I am not the greatest at reading myself with tarot. So would like to become better. Appreciate any alternative views?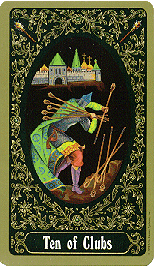 This is what the tarot card of my deck looks like...the image of the deck shows someone with too much wands and falling over them. With a very big place of residence in the background.