Hi everyone. Kate told me to create a thread for my deck in this forum and gave me the link.
I'm making a Tarot deck with insects and arachnids as the characters and using my own drawings as the illustrations for the deck. Before I start the drawings, I check my interpretations for the cards and decide on an image that will fit the interpretation. I've chosen certain insects for each suit, so I stick to that when deciding on the image. Then I get going on the drawings. I first sketch them out in pencil and then draw them in colored pencil. After the drawing is done, I scan it and clean it up on the laptop so it will look good when printing. Then I add the symbols I've drawn and the text to the card.
Here's an example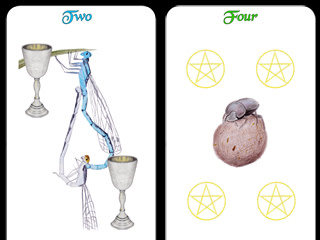 I've finished the lower minors and I'm working on the Pages now. The IndieGoGo campaign was a total bust, not a single dollar even though several people said they'd want the deck. So it will take a bit longer to get it printed at an acceptable quality.