This spread is based on Julia Cameron's book,
The Artist's Way
.
The Artist's Way is a twelve-week course aimed at unblocking one's creativity. Each card pertains to a corresponding week/topic focus in the book, and this spread may prove to be a useful companion to those who plan to go through the book.
I also think that the spread may help summarize the book quite well, and provide a pictorial insight at a glance, and may prove useful to blocked artists who may not be familiar with Cameron's book. It is important to note that while the author Julia Cameron believes in the Tarot, The Artist's Way is not about the Tarot.
The spread is aimed to answer these possible questions from your querent:
1.) How can I unblock my creativity?
2.) I feel stymied in my art? Help!
3.) How can I be more creative?
4.) I'm taking The Artist's Way course. What does the Tarot want to say to me throughout this journey?
This is the spread layout.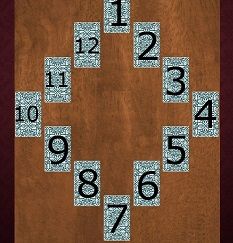 Safety
1 To enable you to explore your creativity with less fear, you may need to feel safe--from others or from yourself. This card will give you insight as to how to best establish a sense of safety. What affirmation can I use to feel safer? (Affirmations suggested below.)
Identity
2 This card will help move you into your personal identity, a self-defined you. It can shed light on this issue: What doubts (or persons around me) must I guard myself from so that new territories/interests/needs/desires can announce themselves?
Power
3 What are my secret shames? What have other people said to me that caused me accept a limited view of life? How can I use my strong emotions (like anger) as fuel for art?
Integrity
4 How do I really feel? What do I really want? This card points to positive action that will align you towards your truth. It may also show what you need to withdraw from temporarily so you can spend more time on your art.
Possibility
5 What self-imposed limits do I need to crumble? What self-destructive habits do I cling on to? Dismantling these favorite creative blocks can lead to a sense of limitless possibility.
Abundance
6 What is my attitude toward money? Where do I think my financial support comes from? Do I truly believe the Universe supports me?
Connection
7 What is my inner artist telling me now that I have not paid attention to? Is the still, small voice showing me what insidious beliefs or emotions keep me from taking creative risks for my art?
Strength
8 Are there past criticisms that still haunt, sting, and pain me? What small, gentle actions can I do at this time to heal and move on?
Compassion
9 What are my unacknowledged fears and resentments? Here is the chance to gently admit them, love yourself, and make one positive action towards creating art.
Self-Protection
10 What crutches (alcohol, sex, drugs, workaholism, money, food) should I give up for my own health? What changes do I need to make to guard against these?
Autonomy
11 What behaviors/beliefs nurture and strengthen my creativity? What activities may be poised to sabotage these, and therefore should be avoided?
Faith
12 What can lead me to trust the Universe more with flourishing my creativity?