The Fool card bears an interesting resemblance to 'The Man in the Moon'. The Man in the Moon is traditionally seen as a man carrying a bundle upon his back, and accompanied by a little dog.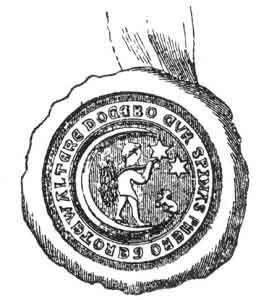 From a 14th century relic.
There are various explanations as to how there came to be a man in the Moon.
In Judeo-Christian legend, he is thought to be Cain, the Wanderer, forever doomed to circle the Earth. Dante's Inferno alludes to this:
"For now doth Cain with fork of thorns confine
On either hemisphere, touching the wave
Beneath the towers of Seville. Yesternight
The moon was round."
This is mentioned again in his Paradise:
"But tell, I pray thee, whence the gloomy spots
Upon this body, which below on earth
Give rise to talk of Cain in fabling quaint?"
In a medieval folk-tale he was put there as a punishment for working on the Sabbath, where he must carry his bundle of faggots for all eternity.
Representation in Gyffyn Church, near Conway.

Shakespeare makes reference to him in the Midsummer Night's Dream, Act iii. Scene 1, Quince the carpenter gives directions for the performance of Pyramus and Thisby, who "meet by moonlight," and says,

"One must come in with a bush of thorns and a lanthorn, and say he comes to disfigure, or to present, the person of Moonshine."

Then in Act v. the player of that part says,

"All that I have to say is, to tell you that the lanthorn is the moon; I, the man in the moon; this thorn-bush, my thorn-bush; and this dog, my dog."

In the Tempest, Act ii., Scene 2, Caliban and Stephano in dialogue:

Cal: Hast thou not dropp'd from heaven?
Ste: Out o' the moon, I do assure thee. I was the man i' the moon, when time was.
Cal: I have seen thee in her, and I do adore thee: my mistress show'd me thee, thy dog, and bush.

Astrology's connection of the Moon to traveller's and vagabonds gives the Fool card a lot of possible Lunar correlations.

From William Lilly's

Christian Astrology

;

"When ill dignified. A meer Vagabond, idleperson, hating Labour, a Drunkard, a Sot, one of no Spirit or Forecast, delighting to live beggarly and carefly, one content in no condition of Life, either good or il.

Quality of Men and Profession. She signifieth Queens, Countesses, Ladies, all manner of Women; as also the common People,

Travellers, Pilgrims,

Sailors, Fishermen, Fish-mongers, Brewers, Tapsters, Vintners, Letter-carriers, Coach-men, Hunts-men, Messengers, (some say the Popes Legates) Marriners, Millers, Ale-wives, Malstors,

Drunkards

, Oister-wives, Fisher-women, Chare-women, Tripe-women, and generally such Women as carry Commodities in the Streets; as also, Midwives, Nurses, &c, Hackney-men, Water-men, Water-bearers."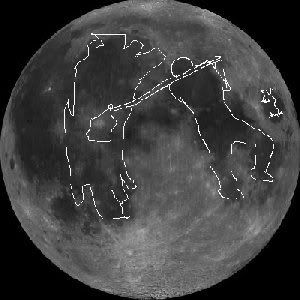 From http://www.planetfusion.co.uk/~pignut/Man_in_moon.html